Eco warriors will love the Razor EcoSmart Metro Electric Moped! With zero emissions, you leave nothing except your trail tracks. The stylish design of the Razor EcoSmart Metro Electric Scooter features a deck made from bamboo – on the world's most renewable resources. But the concern for the environment need not compromise other features. This model runs fast and provides a lot of room for luggage. It has a removable luggage rack and basket that make trips to work, the coffee shop, or just around the neighborhood easy and enjoyable. Founded in 2000, Razor USA and its brand embody the spirit of fun and freedom. It offers a full line of products that inspire and excite riders everywhere. Based in Cerritos, California, the company combines cutting-edge technology, high-quality materials, and strict safety standards to deliver a product that is designed to suit every rider's evolving lifestyle. Cool products and great value have distinguished Razor as a trusted brand and industry leader–from motocross and BMX, to snowboarding, skateboarding, and surfing, Razor products are rooted in popular action sports. It's not how you ride, but how the ride makes you feel.
Razor EcoSmart Metro Electric Scooter Main Features
Product feature
SIT AND RIDE – Soft padded seat and wide bamboo deck make for plenty of foot room and a cushy, stylish rid
SMOOTH HANDLING – Air-filled 16" tires (406 mm) provide a smoother, safer ride on uneven terrain. Comfortable, twist-grip hand throttle and hand brake provide ease of control
CARGO CARRIER – Tote your groceries, books, or bags with the handy detachable luggage rack and basket
FAST AND POWERFUL – A 500-watt, high-torque, chain-driven motor boasts an up to 18 mph (29 km/h) max speed with a range of up to 12 miles (19 km) and up to 40 minutes of continuous use
SAFETY AND STABILITY – Rear-wheel drive shifts weight to the rear, enhancing both drive traction and ease of steering
This battery-powered electric sit-down moped features a bamboo deck. It is powered by a 500-watt high torque motor and a 36-volt electrical system. Razor EcoSmart Metro Electric Moped has a variable speed throttle control and a powder coated frame. Features include: an ultra padded seat; a detachable luggage rack; a rear fender; a rear disc braking system and a standard bicycle-size 16-inch pneumatic tube tires on spoke wheels. This model can take you to speeds of up to 18 mph and can operate for up to 40 minutes of continuous use. Other notable features include: a twist-grip acceleration control, hand-operated rear brakes, and a maximum load capacity of 220 lbs.
Customers love the virtually silent motor on the Razor EcoSmart Metro Electric Moped. It's quick, quiet and comes with a comfortable seat. Best of all, no gas needed to operate the Razor EcoSmart Metro Electric Moped. The Electric Moped combines comfort, style and function in one model. Riders love the functionality of it all. What's not to love? You have a powerful motor (more than enough power to get you through most trips to work), a sleek powder-coated frame, and a battery weight that is balanced on the center line of the frame. The speed is around 18-20 mph – just the right balance between speed and safety.
Watch Razor EcoSmart Metro Electric Scooter Video Reviews
18Mph Electric Scooter Under $400? Razor Ecosmart Metro First Impressions
eBay (only $299!): http://ebay.to/2hmOz7Y Walmart: http://bit.ly/2hlUU3q Amazon (not available): http://amzn.to/2jPgvSS Vilano Neutron eBike: http://amzn.to/2fELxbs Vilano Atom eBike: http://amzn.t...
Razor Ecosmart Metro Scooter Review
Razor Ecosmart Metro Scooter review. Range 7-10 miles. Top speed 18mph. Charge time 2.5 hours. Electric scooter.
Razor Eco Smart Metro Owner Review
My experiences with this awesome machine after 2.5 weeks of daily usage ***** Probably a good idea TO WEAR A HELMET!!!!!! *****
The EcoSmart Metro Electric Scooter with comfortable and functional features.
The EcoSmart Metro Electric Scooter is designed for true neighborhood transportation – clean, green, easy, no gas needed! For its features, it is reasonably priced. It features stability, a comfy padded seat, a strong motor and ultimate functionality.
PROS
Made of Eco-friendly materials
Travels 18 – 20 mph
Load capacity of 220 lbs
Comfortable
Stylish
Add your review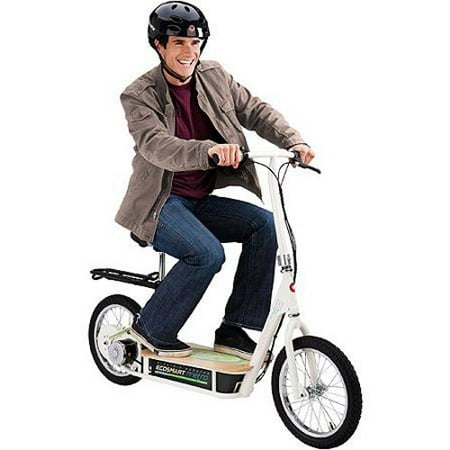 -15%
Last update was on: May 11, 2021 4:05 am
Go green with this awesome Razor EcoSmart Metro Electric Scooter. The 16-inch pneumatic tube tires on spoke wheels the rider will experience unparalleled comfort and undeniable convenience. This device requires no gasoline and hence makes an eco-friendly choice of bikes. It also features a...